Forthcoming Events
To purchase more than one ticket, click Add to Cart and edit the quantities on the view cart. To buy tickets of different types, or for multiple concerts, click Continue Shopping to return to this page.
Keep your receipt, this is proof of purchase and forms your ticket entry.
You can also buy tickets from:
For each of the dances:
From Paper Shop or by emailing mikethetiler@hotmail.com or phoning 01509 413649
Productions:
From Paper Shop or by emailing judithrodgers155@gmail.com or phoning 07718 153117
Increase quantity of tickets required in View Cart
Mr Keith & his Mini Orchestra
Price:-
£11.00 Concession £10, Child £6 (£1 reduction for all classes if purchased in advance)
Date of Event:-
Friday 29th September
Time of Event:-
7:30pm
Venue:-
Humphrey Perkins Community Centre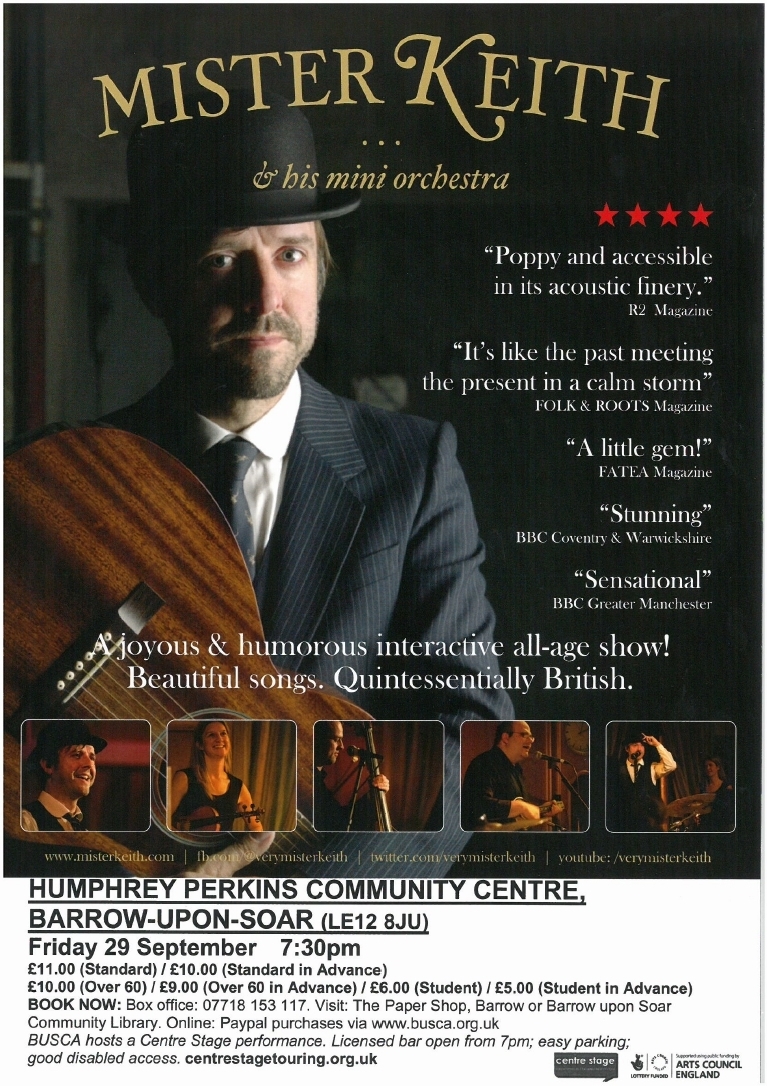 We are delighted that Barrow has been successful in its bid for three Centre Stage events this year. The first is A Parlour Concert with Mr Keith's mini orchestra on Friday September 29th starting at 7:30pm in Humphrey Perkins Community Centre, Cotes Road, LE12 8JU.
The show welcomes you on an intimate journey by flickering candlelight using expertly crafted songs, stories and humour to draw a picture of a forgotten era. Expect songs that will make you laugh, sing and even cry. Find yourself remembering first loves, lost loves and time gone by. The gifted Mister Keith, ably assisted by his small "orchestra" of multi-instrumentalists will introduce you to the Victorian Parlour concert. Expect to play your part as you sing in his choir or help him create new songs and stories in front of your eyes.
Tickets can be bought from the Paper Shop or the library in Barrow or by Paypal  (you don't need a Paypal account; just use your card). Bought in advance of the show they cost £10, £9 (concessions) and £5 (children under 16).  With the feel of cabaret, you can enjoy our well stocked bar while you watch the show. Disabled access is good, parking is a doddle and the venue is warm and inviting. This must be the way to enjoy professional touring theatre.
Any enquiries to me, Judith on 07718 153117 or judithrodgers155@gmail.com
Murder Mystery
Price:-
£12.00
Date of Event:-
Friday 6th October 2017
Time of Event:-
7:30pm
Venue:-
Humphrey Perkins Community Centre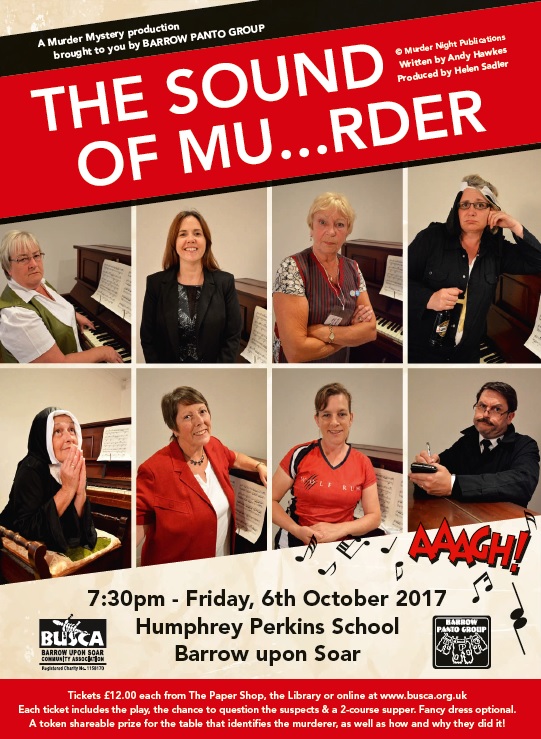 The Sound Of Mu…rder by Andy Hawkes
If you've ever wondered about the relationships that exist within a drama troupe, this year's murder mystery is for you. Behind the glittering costumes and the bright smiles what goes on? How do the actors' personal lives effect their performance? Well, it goes without saying that the Murder Mystery teams are, year on year, groups of loving individuals who pull together and support one another through thick and thin. This year's group is no different so why not come along to witness just how well we're pulling together and see if you can spot any flaws!
The Sound of Mu...rder by Andy Hawkes is about an amateur group rehearsing the Sound of Music which gives you the ideal opportunity to dress to impress in your dirndls and your lederhosen, your nun's habits and your Nazi uniforms… or something else (a lonely goatherd?)
The show is on:
Friday 6th October 2017, 7:30pm at Humphrey Perkins Community Centre, Cotes Road, Barrow LE12 8JU.
Tickets are £12 each which includes a two course ploughman's supper and the chance to interrogate the suspects. Available from The Paper Shop, The Library and by Paypal.
Come along to have all of your questions answered...
Enquiries from judithrodgers155@gmail.com or 07718 153117
WE ALWAYS SELL OUT SO DON'T DELAY BUYING TICKETS!
First Ballroom Dance of BUSCA's Season
Price:-
£12.50
Date of Event:-
Saturday 7th October
Time of Event:-
7:00pm to 11:00pm
Venue:-
Humphrey Perkins Community Centre
So it is the first ballroom dance of BUSCA's season  and will be hosted by the ever popular Richard and Carol of Just Us. They will provide the music for the full range of both ballroom and sequence dancing and will be happy to play your requests.

It will be held in Humphrey Perkins Community Centre, Cotes Road, Barrow upon Soar, LE12 8JU starting at 7.30. Doors will be open from 7.00.

 

Tickets will cost £12.50 which includes a tasty two course buffet. There will be a full bar. Tickets can be bought here click Add to Cart  button (you can pay with a card and you don't need a Paypal account) or from Mike Collins on 01509 413649 or from Barrow's Paper Shop or Barrow library..

Tickets will not be available to purchase after Wednesday 4th October.
Christmas Street Market
Price:-
FREE
Date of Event:-
Saturday 2nd December 2017
Time of Event:-
2:30pm to 5:30pm
Venue:-
High Street & Church Street
Barrow Christmas Street Market on Saturday December 2nd 2.30pm  -  5.30pm.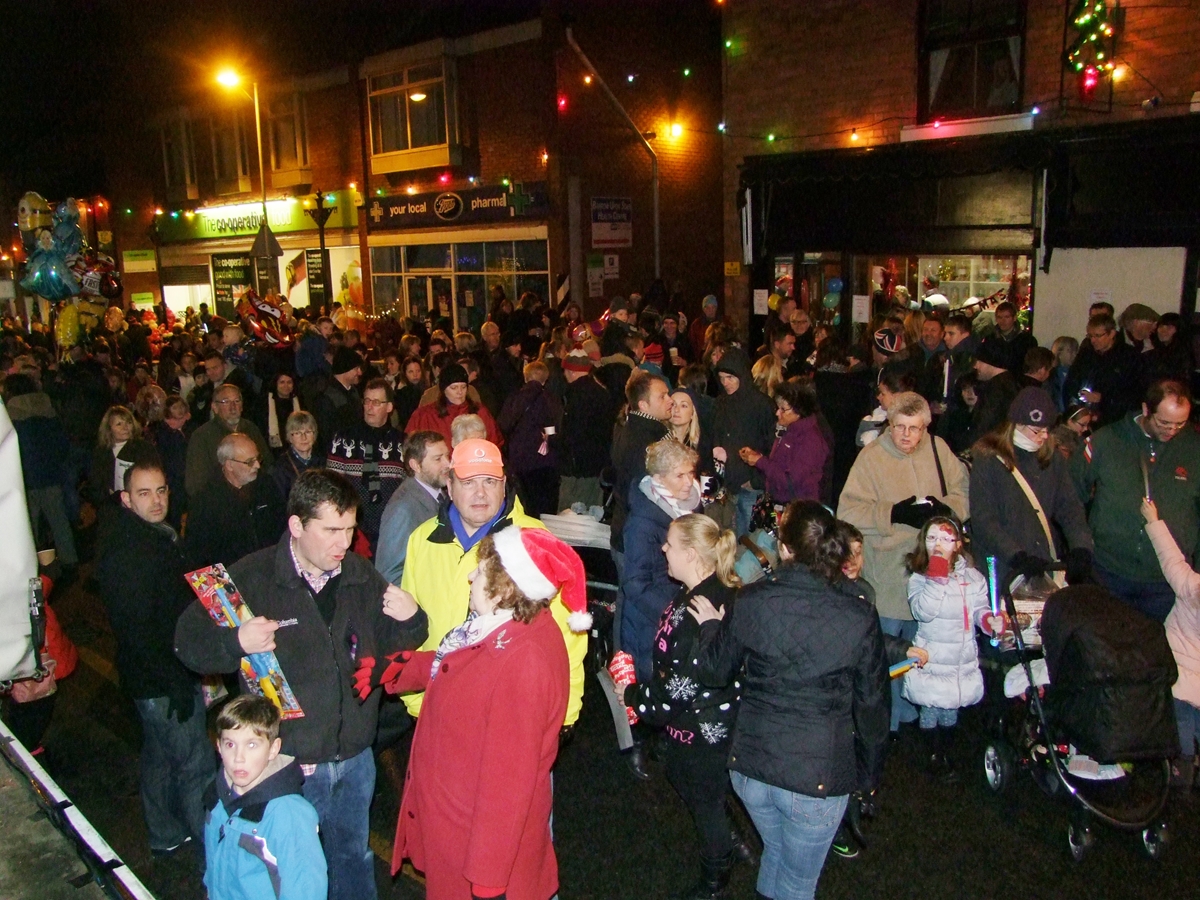 Bookings:
Bookings are now open, get your Application Pack here. When completed please return with a copy of your Public Liability insurance by email or return to the address below. Your payment will be by cash at the market.
NB All applications should be received by Friday 17th November 2017
Please note that only applications with completed paperwork will be accepted.
All applications will be acknowledged if an email is supplied.
Pitch prices for 2017                                                      
Standard 3m x 3m pitch (Non-catering food and general retail/services): £15.00 per day                  
Standard 3m x 3m pitch (Catering/Serving alcohol): £25.00 per day
Standard pitch 3m x 3m pitch (Handmade Crafts, artwork, vintage/retro etc): £10.00 per day  
Local charity/community organisation (Promo and fundraising): FREE
Larger pitches are available. Please enquire about prices.
Notes
i) Stallholders will need to provide their own power, lighting, equipment and water. No stalls are provided.
ii) Generators will only be allowed by arrangement with Judith Rodgers for Barrow Community Association . Please consider using little multiple LED lights powered by a battery.
iii) Gazebos will not be allowed if windy conditions are forecast for the event.
iv) High Street and Church Street will probably be closed to traffic from 1.00 – 6.30.  Once you have set up your stall there must be no traffic movement in High St or Church St between 1.00pm and 6.30pm and vehicles may not be parked in the closed area without specific agreement with the Market Manager. We recommend that you park in the Health Centre car park further through the Coop park or in the Station car park.
Any questions please do not hesitate to contact Judith Rodgers, 155 Nottingham Road, Barrow upon Soar,  Loughborough   LE12 8JA
Email:   judithrodgers155@gmail.com                 Mobile: 07718 153117
---